'12 Years a Slave' makes for a brutal, powerful viewing
Every so often a movie comes along that stands out among all others.
"12 Years a Slave" is that movie.
Going back to the year of 1841, the film follows a free black man who is kidnapped and sold into slavery where he succumbs to torture, whippings, and the true brutality of the South.
A film of this nature sounds off putting, as it should. But this is a movie that needs to be seen. It embodies the gruesomeness of slavery all while delivering a powerful story of hope and courage.
Director Steve McQueen does not allow us, as viewers, to just sit back and relax while these wrongdoings occur, but instead has the camera linger over graphic images of violence much longer than one would like.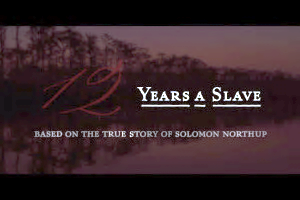 But this is the treatment that is needed.
Many movies previous to this either glamorize or make light of the atrocities of slavery. This film instead takes them head on and shows the audience just how much is corrupt in our history.
"12 Years a Slave" is a motion picture event that should be seen by everyone, no matter how disturbing or unsettling things get on screen.
This film is a definite contender for Best Picture and is already earning the buzz of being one of the best movies ever made. It is far from pretty, but then again, none of the truths in life usually are.