iPhone hack frightens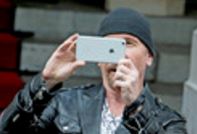 On Mon. Sept. 21, it was announced that China infected 85 legitimate iPhone apps with malware, according to BGR.
The malware can steal iCloud passwords and Apple ID passwords.
This can frighten many people, especially with the new release of iOS 9 that has a new feature: Apple Wallet. If the phone is infected, the malware could very easily steal vital information from the phone, which can cause many problems, including identities being stolen.
Freshman Henry Fossett said, "This iPhone hack is incredibly scary; I feel that if my phone was hacked I would lose potentially important information."
Clearly this can affect all people, young and old, and in order to be safe, stay away from apps that seem "shady" and not trustworthy.
When asked if this hack will affect him, freshman Jason Merkel said, "This will most likely not, but this is really scary. It would be terrible if I was hacked and didn't even know it."
Hopefully the hack will be taken care of, but as of Mon. Sept. 21 the malware is still running rampent.
Also, freshman Abby Carver said, "If this malware hacks my phone, it would really not be good since I have a bunch of important information on it, and if it got stolen, I have no idea what I would do."
Although this hack was very devastating towards the apps and their creators, the virus can be easily avoided with caution and common sense.
30-30-30
Alex Karev