Varsity tennis sustains success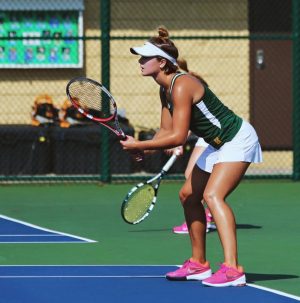 Sunlight shines onto the faces of the players on the Girls Varsity Gold tennis team as they sprint across the courts. Whether swinging at serves, groundstrokes, or volleys, members continue to improve their technique.  
  Senior Amanda Peck said, "Coach Michael Teets really emphasizes good technique and footwork. Those can make a huge difference in a big match against a really good team. It definitely did for me."
  The team has only lost to one other Great Miami Conference school thus far, Mason. Players will compete against Mason later this month in the State Team Tournament.
  Sophomore Kaitlyn Jiang  said, "Mason is going to be a huge match, but we're working our hardest to prepare. We are the underdogs going into the match, but anything can happen."
 The previous season, the team lost in the State Team Tournament to Ursuline to qualify for the final four.
  Senior Margaret Skwara said, "It was heartbreaking last year, but now we're stronger. We're ready for anything."    
  The team will compete in the upcoming tournaments:
Greater Cincinnati Tennis Coaches Association's Coaches Classic

Greater Miami Conference tournament

Ohio High School Athletic Association's State Team tournament
Freshman Sarah Wittenbaum said, "I'm excited to compete in a lot of tournaments. It's great how we work hard and have fun together."