Super blood moon appears after 33 years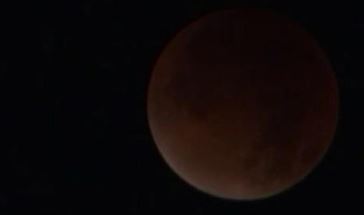 A phenomenon occurred, on Sun., Sept. 27.
The last in a series of lunar eclipses over two years, called a tetrad, the super blood moon eclipse made sure to go out with a bang.
The fact that the eclipse was not just a regular lunar eclipse caught the attention of people across the globe. The moon was at the position of its orbit where it looked large and red in the sky.
Sophomore Sydney Bahr said, "I got to see the super blood moon when I was driving home from my golf tournament and dinner. It was really cool looking and I had never seen anything like it before."
Others were not as impressed.
Sophomore Josey Leach said, "Honestly it didn't seem worth it to stay up and look at the moon, especially with the Ohio weather. I heard it was overcast, and you could barely see it."
Besides being an astronomical phenomenon, the moon also had cultural significance.
Sophomore Anita Pan said, "The blood moon was very appealing to the eye, and I was surprised that people actually cared about it. I didn't think it would be a big deal for others because for the Chinese culture it was the Mid Autumn Festival."
No matter what a person thought of the super blood moon eclipse, it will not return until 2033.