Reflection in Roseburg
Families of victims remember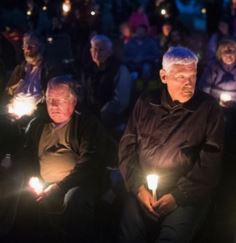 Thurs., Oct. 3 was your typical day in Roseburg, Oregon. The sun was shining and the birds were chirping. People were going about their usual business, when suddenly everything would change.
At 10:38 a.m., the first 911 call was reported to Roseburg police about a shooting at Umpqua Community College. The 26-year-old shooter, Chris Harper-Mercer, burst into a classroom and opened fire on students.
A student at Umpqua College, Tracy Heu, was in the class at the time Harper-Mercer came storming in and said, "He just came in and shot toward the back of the wall… He told everybody to get in the center of the room… He seemed excited… he shot everyone."
This is incredibly terrifying to hear about, especially since this is another school shooting. Being in school every day makes students vulnerable to these attacks because everyone is in one general area, which makes killing easier for the intruder.
It truly should make everyone feel honed in on the cruelty and insanity of people and the levels that some are willing to go to.
Freshman Jordan Pescovitz said, "I feel incredibly sad and disappointed- the guy was insane… he opened fire on nine people and then himself… It was a devastating day in Oregon for the friends and families of the victims."
Approximately six minutes later, at 10:46 a.m., two Roseburg police officers and a state trooper arrived on the scene. Two minutes later, it was reported that Harper-Mercer was "down," and it was later confirmed that he was dead. As of Oct. 6, the cause of death is still being investigated, but it is ruled to be most likely a suicide.
"I heard [Harper-Mercer] screaming, 'Ow'" said Heu. "And then two more gunshots."
Although this probably will not be the last school shooting, hopefully the laws regarding guns and mental illnesses will be more tightly regulated to help prevent a tragedy like this from happening again.