Varsity tennis continues conditioning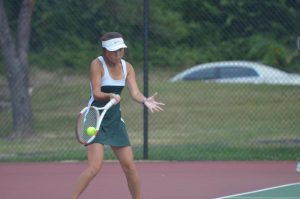 Only two weeks after members on the Varsity Gold Tennis team clenched their state runner-up title in the Ohio High School Athletic Association State Team Tournament, athletes return to intense training.  
  Sophomore Kaitlyn Jiang said, "Coach Michael Teets really emphasizes training and working hard in the offseason. Right after our season ended, we talked about what we could do better to prepare for next year."
  The team will have three returning players, including Jiang, freshman Helen Sotropa, and freshman Sarah Wittenbaum.
  Wittenbaum  said, "Next year won't be the same having lost so many seniors. But we still have strong players and we are working hard to become better."
 One way that returning members are preparing for the upcoming season is by engaging in the tennis program's morning conditioning.
  Morning conditioning takes place during the offseason, and boys and girls show up at 6:00 AM in the Gregory Center every Tuesday and Thursday to engage in various drills and exercises.
  Junior Sarah Sotropa said, "It's really hard to get yourself out of bed to go to these training sessions. But in your mind you know that you're getting stronger every minute you train."
  For more information on the tennis program, click here.