Football can knock the life out of you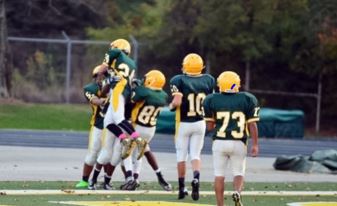 On Thurs. Oct. 22 a Texas high school player, Andre Smith, was hit on the last play of the game. As he was leaving the field, he suddenly collapsed and was rushed to the hospital.
He was pronounced dead Fri. Oct. 23 from "blunt force head injuries due to a football accident," according to the Cook County Medical Examiner's Office.
According to an analysis from the National Center for Catastrophic Sport Injury Research database, "About 12 high school and college football players die every year. Smith was the seventh high school football-related death this year."
Now that the football season has passed SHS, there were  no deaths on the field. But that does not mean that players were not still being clobbered.
Freshman Caedmon Ferrell, who played freshman football this year for SHS said, "When you get popped in the head, it seems like it creates a bluish-green flash behind your eyes, like a flashbulb going off inside your head. I guess that is what happens when your brain slams against your skull."
Football is a violent sport from the start, but some players will take it to another level, often trying to intentionally hit the opponent harder and with more aggression.
Ferrell said, "There was this hit that I received that completely caught me off guard. I was blindsided. I felt a crunching or like a shattering in my shoulder or ankle. Honestly I do not remember for certain."
30-30-30