Refugees face terrible conditions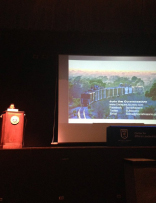 Most likely, you have heard about the current crisis of the refugees in Europe in the news in recent months, but are you aware that there has been a different crisis that is happening right in your own country?
Starting in 2012, it is estimated that are 11 million undocumented immigrants in the United States, almost four percent of the total population. The majority of these immigrants come from Mexico and other Latin American countries.
People who are traveling to this country face terrible conditions during their voyage to the United States. Things like rape, beatings and gang violence are just a few of the obstacles. After they arrive, they still face the burden of supporting themselves and their families, while also having to live in constant fear of deportation.
The saddest part is that the majority of immigrants taking the route to the North are children, as young as 7 years old.
Just recently I have become involved with this topic. Now I'm reading Enrique's journey, an excellent book on which it is to be a refugee child. With reading this book, I have also visited the University of Mount Saint Joseph to see Sonia Nazario, the author of the book.
After seeing Nazario, I formed my own opinion about the crisis of refugees from Mexico and other countries. I think it is very sad that immigrant children feel that they have no choice that follow in footsteps of their parents to the United States.
Also it's horrible that the governments of these countries are so corrupt that they cannot control it. The problem with this is that the United States cannot accept all immigrants who come to the United States because it is complicated to handle the population and the economy.
Although it is difficult, it is still necessary. It is a big problem we have to solve. I believe that the United States, as the world's strongest power, should do something to help these refugees in their own countries so that they do not have these difficulties and do not have to come to America because their lives are already good.
Nazario told me that many people who live near the train stops where immigrants walk have been helping them by giving them food and other things they need to continue the journey.
I think that if we had more people like these, the crisis would be much better. In conclusion, I hope that you learn more about this topic and how to help so that we can set the model broken immigration.