Show stopping talent
Preparing for Variety Show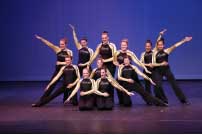 The annual Variety Show will make another appearance on Oct. 9. The Variety Show consists of short acts featuring various students and talents. It only happens once a year.
In order to get your tickets now go to the theatre website. (link here)
To participate in the Variety Show, students had to audition with a minute excerpt of their ideas. The ones who brought sheer talent and had unique acts were told to keep rehearsing because they have a show coming up.
Freshman Katie Good said, "I have dance most days of the week so it is hard for me to get involved in school activities. The variety show doesn't take much in-school rehearsal time so I thought it would be a cool thing I could do."
Good's decision to do the Variety Show isn't unique. Many of the performers in the show aren't usually featured in theatre, choir, or other performing components at SHS.
Students can join the show to express themselves in a way that they cannot do elsewhere.
Freshman Shayna Kling said, "My group auditioned because we all love performing. I thought the variety show would be fun and we would also get to show our stuff while improving in the process."
The show has the name "variety" for a reason. Year after year, the students captivate the audience with the acts they have come up with. Students will be featured in musical groups, Irish dance numbers, comedy acts, juggling, and much more.
Good also said "I'm Irish Step Dancing. I think it is different and people will really enjoy."
Organized primarily by Kenneth Holdt, the show is always very well done. This year will be no exception.
Link: http://aveschoir.com/Shop/Variety-Show-Tickets