Ebola storming back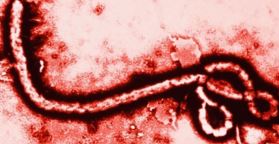 Around September and October of last year, a deadly killer was on the loose. No, it is not your typical "killer" cliche that everyone knows from the movies, but rather much worse. In fact, it is not possible to see this killer with the naked eye. Its name is Ebola.
The virus, which viciously attacks the body's immune system, is contracted through bodily fluids such as blood, sweat, and semen. Ebola seems to have returned from its nine month hiatus and is claiming a victim.
Freshman Heather Bruck said, "It terrifies me that we can die from something we can not even see with our own eyes. The worst part is that you do not know what is coming for you until it is too late."
Pauline Cafferkey was discharged from a London hospital nine months ago, after winning the battle against Ebola. However, today (Oct. 14), she was admitted back into the hospital after it was found out that she is having a relapse of the virus. Not only is this incredibly rare, but her condition is worsening.
In response to Cafferkey's relapse according to CNN, UK Health Secretary Jeremy Hunt said, "Sad to hear of Pauline Cafferkey's condition. Thoughts and prayers with her."
Just a month prior to Cafferkey finding out that she was relapsing with Ebola, she had received the Pride of Britain award and came into contact with numerous amounts of people. One of those who came into contact with Cafferkey was the prime minister's wife, Samantha Cameron.
Luckily, Dr. Emilia Crighton said, "The risk of the 39-year-old Cafferkey inadvertently passing on Ebola to anyone else is very low. In line with normal procedures in cases such as this, we have identified a small number of close contacts of Pauline's that we will be following up as a precaution."
Cafferkey is in a critical condition.
Several measures have been implemented to help contain this Ebola epidemic. Although Ebola is still running rampant in West Africa, the spread of the Ebola virus has been successfully limited in areas where there have been adequate resources.