People beginning to hack nature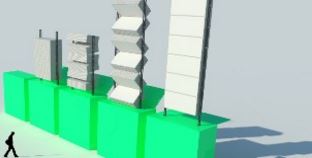 In order to avoid a global warming disaster, humans may have to mess with the climate.
Whether you call it "fiddling with the knobs of nature" or the more scientifically correct "geoengineering," it all revolves around this question: Can humans use science to reverse global climate change?
One way of keeping global temperatures from warming is to draw out the excess amounts of carbon dioxide from the earth's atmosphere.
According to CNN, Trevor Algatt of Los Angeles said, "There's a new technology that can extract carbon from the air and condense it into 'fibers' for use in buildings, electronics, cars, clothing and other manufactured goods. The inventors said that, if implemented on a large enough scale … it could return our atmospheric carbon to pre-industrial levels within a decade."
However, there are two problems with this invention. Firstly, the process would be incredibly expensive. Second, where would we put the carbon dioxide once it was all sucked out?
Director of Arizona State University's Center for Negative Carbon Emissions Dr. Klaus Lackner said, according to CNN, "If you drive a car, you put out about a pound of carbon dioxide per mile. Per person, we put out 15 tons of carbon dioxide per year. There are limits to how much carbon dioxide we can capture and store."
The massive amounts of captured carbon dioxide would have to be stored in a stable, safe environment. Humans have never done that before on this kind of scale.
Yale University geologist Donald Penman said, "The simplest place to put it is at the bottom of the ocean. You have to be worried about unforeseen side effects… It's fiddling with the knobs in the climate system."
Experts will be meeting in November and December to discuss the issue of global warming and more ways to reduce carbon dioxide emissions in the atmosphere.
Penman said, "You might be opening Pandora's box."