Water polo drowns opponents , defends home record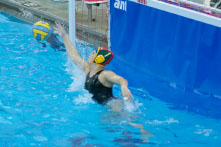 Whether it be the atmosphere of the crowd or the desire to defend their territory, a certain pressure is placed on a team when playing on its own court, field or pool.
The girls water polo team felt this strain going into the annual David Mclennen Invitational on Sept. 26 and 27, which is held at SHS.
However, instead of burdening the team, guarding its home pool acted as a stimulant, strengthening the team's hunger for wins.
Sophomore Abigail Hausfeld said, "I really wanted to stay undefeated at home. It would be heartbreaking to lose that accomplishment."
Prior to the tournament, the team had an undefeated record at home. Afterwards, the team still had an undefeated record at home; meaning that they won every game they played during the Invitational.
Senior Hannah Schewggmann said, "Winning the tournament was really exciting. We played some really good teams and fought hard which paid off in the end."
On the first day, SHS defeated AMDG with a score of 10-6 and Napolean, 13-2. The second day they beat Mason 4-3 and won the championship game against Milford with a score of 10-5.
Coming off of a disappointing performance at the Ohio Cup, the team appears to have regained its focus. Part of its comeback may be credited to Coach Nicholas Helwig.
Senior Hannah Kast said, "Coach Helwig held meetings before practice the week after Ohio Cup so that we, as a team, could discuss what happened and how we can avoid it in the future. It was very helpful, and I think we needed it."
SHS is seeded number two in the state, Upper Arlington is number one. The team has only suffered losses to Upper Arlington by two goals.
Upper Arlington competed at the Beast of the East tournament the weekend of the David Mclennen Invitational. They placed second in the tournament.