Global citizens unite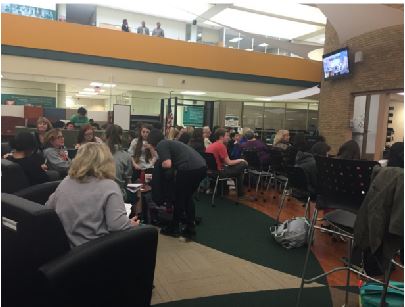 Sycamore graduate of the class of 2008 Andrew Mott came back to SHS to give an insightful presentation about what it means to be a global citizen in the modern world.
Mott, an active member of the global community, has traveled to over 80 countries on five different countries since 2009. he has lived and worked in Kenya, Tanzania, and Iraq.
He shared his experience as a regional coordinator for an orphanage in Africa, a paramedic, and a care provider to military personnel and civilians in Iraq.
Mott said, "The orphanage was about half the size of the IMC with 300 kids all living together."
The main focus of his presentation was to share what it means to be a global citizen. He explained how many of students around the world do not realize or even think about the world beyond their country's borders.
Mott said, " It a decision to look at each day and to say 'I know they are not from here, but I am going to learn from them.'"
His main message was to promote open-mindedness and work towards eliminating stereotypes and prejudice. Our mindset is what keeps us from talking to others as well as working towards understanding each other despite differences.
His challenge to students and staff is to ask questions and to understand people for who they really are, not what the media says. Mott established a simple three step plan to succeed: decision, action and change.