SHS swim team trains on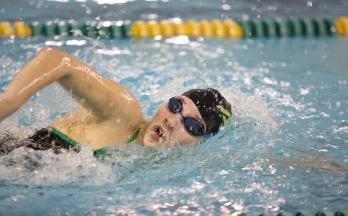 As the beginning of Jan. hits, the SHS swim team reaches the peak of their training.
The end of winter break concludes a period of intense practices called Christmas Training, but does not end the hour long sets and days on end without recovery.
Senior Mary Margaret Fry said, "Christmas training is a time where we have extremely difficult practices twice a day during winter break. Because we have more time to rest without school, the yardage increased and the intensity picks up."
But the end of this training period does not mean the end of hard practices.
Fry said, "Even after Christmas training is over, we still have to train hard for big meets coming up like Southwest Classic, which is the largest high school swim meet in the nation."
Once classic is over, the training still continues.
Fry said, "After classics we have Greater Miami Conference championships, Sectionals, Districts, and eve the Ohio State Meet. The meets never stop, so they training can't either."
In the end, the SHS swimmers hope that the countless hours of difficult training will help them succeed at their highest level meet.