Winter weather takies toll on teen drivers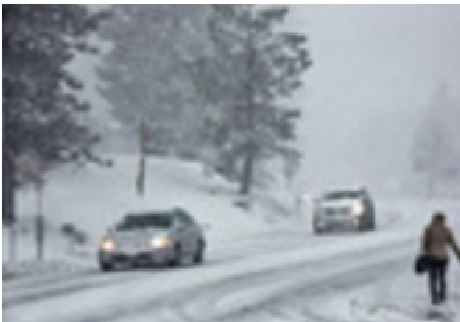 Although the winter has been rather mild so far this school year, the snow and frigid temperatures have begun to make an appearance. Sophomores, juniors, and seniors drive to school, and with slick road conditions, it is important to remember several important tips.
Even before you start to drive, there are some precautionary measures you can take to be safe:
Get a proper amount of sleep. Drivers who are fatigued are more likely to get into an
accident.
Keep your gas tank at least half way full to avoid gas line freeze ups.
Check for proper tire inflations before leaving.
Keep an emergency supply kit in your car with food and water.
Make sure your windshield is clean and does not have any ice on it.
Junior Ally Fanning said, " I hate walking from my car into the school while it snows. It's too cold."
Although the best way to stay safe in snowy weather is to just stay off the roads, at times that is not an option. Here is what you can do while driving:
Wear your seatbelt. This tip is simple but one of the most important.
Accelerate and decelerate slowly. Applying the gas slowly to accelerate is the best method for regaining traction and avoiding skids. Do not try to get moving in a hurry. And take time to slow down for a stoplight.
Do not stop more often then you have to. It takes more inertia to get the car moving if there is snow on the ground.
Do not stop going up a hill. Get some inertia going on a flat roadway before you take on the hill
Senior Nidhi Khanchan said, " I really hate driving in the snow, but you have to do what you have to do."
Winter weather driving can be extremely hazardous, and it is best to be prepared for the worst and plan accordingly.