Serving up storms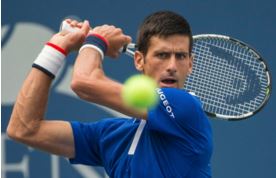 Tennis fans can finally rejoice. The major tennis season is back in swing with the start of the Australian Open.
Not even three days in, drama is already swirling around the tennis world. From allegations of bribery in the lower levels of professional tennis to the world number five, Rafael Nadal's loss in the first round of the Australian Open, this year has already proven to be a controversial one.
Sophomore Nikhil Sekhar said, "It truly is disappointing to hear about all of these allegations of bribery in tennis. It really tarnishes the sport."
The top player in the world, Novak Djokovic, said that he was approached in 2007 to intentionally lose a match, which he did not do.
Sekhar said, "It really questions the integrity of tennis. You may never know whether or not the result of the match you're watching is predetermined or not."
Meanwhile, in Melbourne, Australia the grand slam has already seen some of its top stars go down, such as Venus Williams, Nadal, Simona Halep, and Caroline Wozniacki.
Sekhar said, "I woke up in the morning to find out that Nadal had lost in five sets, and I could not believe it. It seems that his magic is gone, at least for now."