Spanish III tackling Mexican restaurant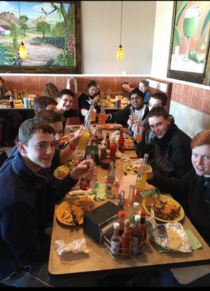 On Fri. Feb. 5 and Mon. Feb. 8, Spanish III classes went on field trips. The field trips were to Taqueria Mercado, a Mexican restaurant.
Freshman Armeen Kazemi said, "The food was really good. I had a burrito, and it was done perfectly; I wish we could go again."
The field trip is part of the Spanish III students' unit on food. It was used to help apply the Spanish that they are learning in class to a real-life setting.
Freshman Caitlyn Jarrett said, "We were only allowed to order our food in Spanish, and if we did not, then we could not eat! I studied hard to make sure that I would know what to say!"
The meal consisted of chips and salsa, a main meal, and a dessert that students personally baked.
Jarrett said, "When we were baking our desserts, I felt like I had no idea what I was doing, but when they came out of the oven they were so warm and delicious!"
The trip began around 11:30 lasting to 1:30, and students missed their 6th and 7th bells. The consensus among the students was that it was a great field trip and a great time.