Counselors busy with scheduling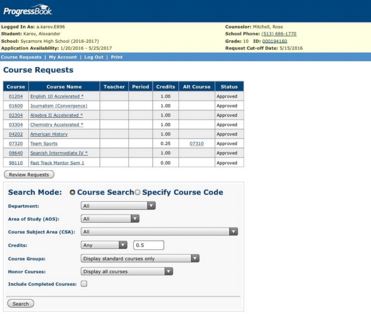 The time of year has come for students to create their course outlines for next year. Although it can be a painful process for students, the counselors have it worse.
Students have to come up with ideas of what they are going to take the next year, which can be a difficult and stressful process.
Freshman Ryan Hertlein said, "It was definitely tough trying to map out all my classes. I had to figure out the ones I could and could not take and see if I had room for other elective classes in my schedule."
Counselors, however, have to meet with all of the grade levels in the coming weeks and go through all of the students' online course requests.
Hertlein said, "I cannot imagine the stress the counselors go through. They have to meet with every single student individually and go through their courses with them."
There was also a new process for requesting classes that was implemented this year. Students have to go online to Naviance and request classes from there. Sometimes it was a tedious process.
Hertlein said, "First of all, just logging on to the website was a challenge because the username and password were difficult to obtain. Then, picking the classes was tedious because you had to type in the class codes, not the class names, so if you misspelled a number it would give you the wrong class."
Counselors though, are our superheroes. They do the dirty work so that we do not have to and for that we thank them.