Boys tennis swings into new season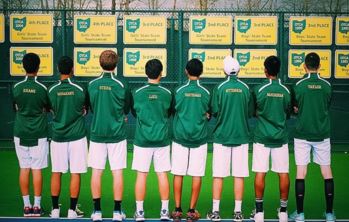 Spring athletes have been waiting since the early days of August for the luscious time of green.
With spring coming, that means that there are tryouts for all the different spring sports: girls lacrosse, spring track, and tennis (to name a few).
After a successful year of winning state again, the boys tennis team will need to fill in key positions that have been emptied due to seniors from last year graduating.
Senior Alexander Taylor said, "I feel that we have a very strong wave of up-and-coming players that can fill those spots. The season will be a dogfight for sure, but that is the beauty of high school sports."
Tennis tryouts begin the week of March 7. Additionally, players will have to run a mile on March 1.
Freshman Jacob Wittenbaum said, "I am definitely excited for tryouts. I am also very nervous. They are opportunities for you to prove yourself to the coaches, which can be nerve racking at times."
The boys team will look to repeat its role as state champions this year.
Taylor said, "Last year, we were seen as favorites by everyone; we had four seniors on our team. This year, however, it will be tougher, but I do believe we have a very viable shot at taking the title."
The first match for Varsity A is on April 2.