Preparing for her dream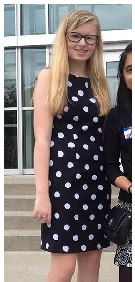 Freshman Grace Creek aspires to be a doctor, either as an OBGYN or oncologist. Her determination to join the medical practice can be traced back to when she was in seventh grade.
A lover of science and biology, Creek's gravitation towards medicine is no surprise. She is known for having an ambition to be the greatest she can be.
Creek said, "When I was in seventh grade I read a memoir about a neurosurgeon. This sparked my interest in medicine, and I began to look further look into the subject."
While trying to unravel the mysteries of the unknown medical profession, Creek watched many Crash Course videos on anatomy and physiology.
She became invested in the topic and began structuring her path towards the goal of earning a degree as a Medical Doctor.
Creek said, "My dream schools are Duke and Georgetown; they both have very strong pre-med and medical school courses."
Now she can be found volunteering three to four hours a week as a nurse's assistant in the maternity ward of Cincinnati's Bethesda North Hospital.
Her job at the hospital is to make baby beds and stock the rooms with supplies for the new mom.She also helps the nurses by retrieving supplies such as ice packs and blankets for the patients.
Creek said, "I love the exposure to the hospital. I get to talk and ask questions of the nurses and doctors. It's very rewarding work; nurses have a very hard job dealing patients. It is such a good feeling to be able to make their job a little bit easier."