Tennis team paving way to state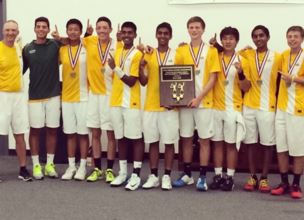 The Varsity Gold boys tennis team is set. The team this year will consist of seniors Alexander Taylor, Rohan D'Souza, and Ajay Qi, juniors Noah Stern and Regis Liou, sophomore Nathan Zhang, and freshman Alex Karev.
The team will be practicing everyday, Monday through Friday, from 3:45 to 5:30 and on Saturdays 10:00 to 11:45.
Qi said, "This season is going to be all about execution. We are favorites in most of our matches, so we have to go out and show it."
The team's practice consists of a 15-minute warm up, followed by a series of quick drills designated by Coach Michael Teets. The team then finishes their practice with some sprints and running drills.
Stern said, "Practice is meant to be difficult for us. It is like that so our opponents know that we are the physically and mentally dominant team."
The Varsity Gold team is ranked number two this year in the state of Ohio and is looking to three-peat this year as state champions.
Stern said, "Winning again this year will be difficult, but we can get it done. We have a great group of guys this year with a lot of depth that can make it happen."
The team's first match will be on April 2 against Copley.