French Club deccorates masks for Mardi Gras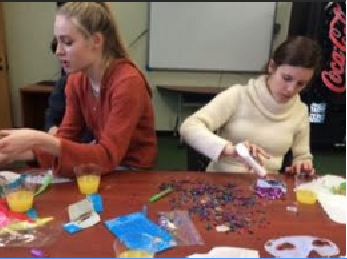 The snow day postponed French Club's monthly meeting, which was held on Feb.10 after school.
Junior Allie Fanning said, "I am really bummed about the French Club being postponed because I really wanted to go but could not."
The celebration of Mardi Gras has been celebrated in France, but there are many differences between how Americans and the French celebrate the holiday.
French Club takes the traditional route and celebrates by decorating masks and eating King's Cake, a dry cake that has a prize inside.
This year, three students have volunteered to make the cake for the celebration. It is considered to be an easy pastry to make as long as directions are followed.
When the masks are finished, Madame Lesley Chapman judges the mask based on creativity and overall quality.
This is one of French Club's last celebrations before the end of the year.