Spanish dives into Don Quixote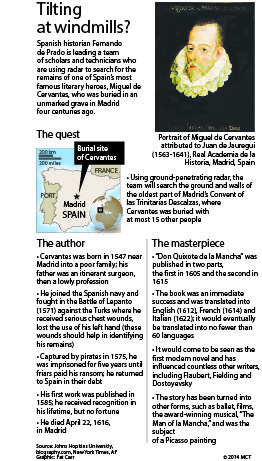 With the end of third quarter on the verge, Spanish IV classes have begun reading the renowned novel Don Quixote by Miguel De Cervantes. This famous piece of literature is read widely around the world.
Sophomore Elayna Berry said, "We just started reading Don Quixote in Spanish class and so far it's really interesting. Before we started reading the book, we all researched information about the author and the story to get learn some background information about the novel."
Don Quixote, considered to be the first 'modern novel', has been translated into over 50 languages, although it originally was written in Spanish in 1605.
In the book, Don Quixote is an insane landowner who, after reading numerous novels about famous knights, decides to become a knight himself.
Widely recognized as one of the greatest works of fiction ever created, Spanish classes all around the world read it within their curriculum.
Spanish IV teacher Mrs. Lisa Vanags said, "Every week, I see at least one Don Quixote reference in the world."
Don Quixote is read by Spanish IV students at SHS each year towards the end of the third quarter due to its large impact on Spanish literature and culture. It has even said to have aided in the creation of the modern Spanish language.
Berry said, "We haven't read much of the book yet, but it has been very interesting so far, and I'm excited to find out what happens."