Boys Varsity Gold tennis season jumping into action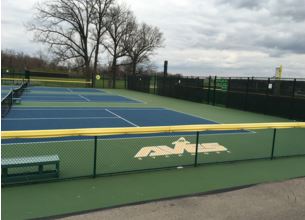 The Varsity Gold boys tennis team's season begins on Saturday, April 2. The team will be facing off against Copley High School at 10:00 a.m. and then Kenston High School at 2:00 p.m.
Senior Alexander Taylor said, "Copley is a familiar foe; we fought hard with them last year. Kenston, however, will be a much more difficult opponent. They are ranked number five in the state of Ohio, and they've got a solid group."
The Varsity Gold team is ranked number two in the state of Ohio.
Taylor said, "We can not take any opponent lightly. We have always got to be ready for a potentially challenging match. That is part of the reason we are so good; we don't underestimate anyone, while some teams underestimate us, and we beat them."
The team will be leaving for Copley High School on Friday, April 1 at 2:45 from SHS. They will not return until 9 p.m. Saturday night.
Junior Noah Stern said, "Normally when we go on away trips we play silly Eye-Spy games in the van or we even have rap battles. It is a complete blast."
Once the season opens, the team will be busy playing matches and traveling almost every school day and weekend.