Boys tennis season opening on road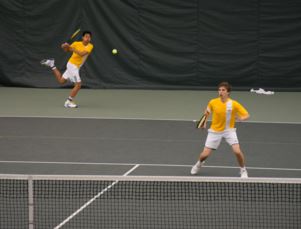 This past Saturday, April 2, the boys Varsity Gold tennis team took a trip to Akron to play Copley High School and Kenston High School.
The team left from SHS around 2:45 and embarked on a four-hour van ride to their hotel.
Senior Ajay Qi said, "The ride, although it was actually four hours, didn't feel like it at all. We played trivia games and listened to music to pass the time, and it was such a great time!"
The match against Copley High School ended up being moved indoors due to inclement weather, but the team kept its focus and won its opening match of the season 4-1.
Senior Alex Taylor said, "It definitely gave me a huge confidence boost after this win. Our guys stepped it up when they needed to, and I'm really proud of them for that."
The team then had to play against Kenston High School. Both of the doubles matches won, giving SHS an early advantage. One by one, however, all of the singles matches for SHS lost, making it 2-2, except for one. The only one remaining was junior Noah Stern.
Stern ended up just short, losing in three sets 7-6, 2-6, and 3-6. SHS lost 2-3.
Coach Michael Teets said, "Although no one likes to lose, we can always take positives out of this. We know what we need to work on so this doesn't happen again, and we just have to go out and take care of business like we are supposed to."
The team looks to rebound on Tuesday, April 5 against Hamilton High School. The team also has a home match on Thursday, April 7 against Fairfield High School.