Boys tennis steaming through season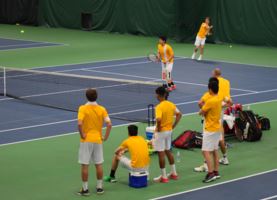 The boys tennis season is in full swing. With matches almost every day last week, the boys seemed to get no time to rest and were constantly playing.
Senior Rohan D'Souza said, "Being new to the Varsity A team, I never realized how mentally and physically taxing it is on me. I come home after a match and I will just feel my muscles tighten up, but that's the beauty of sports and I love it."
The team had an impressive week of matches, beating teams such as Wilmington, Fairfield, and Cincinnati Country Day (CCD is ranked number one in the state for Division 2).
D'Souza said, "Beating CCD was definitely a huge for us, especially since we just came off a tough loss [to Kenston], and we were away."
The team then played a familiar foe on Saturday April 9 Massillon Jackson. This was the team that SHS beat last year in the state finals to capture their second consecutive state title.
D'Souza said, "It was a very very close match but we just ended up losing to them 2-3. The atmosphere was great; we had a lot of fans supporting us and that felt great. It is not the greatest feeling losing to a team that we've beaten before, but when we will play them again, we will come back really strong."
The Varsity A has another busy week of matches coming up April 11 to April 16. They will play Mason, Oak Hills, and Louisville St. Xavier.