Reporters receive Pulitzer Prize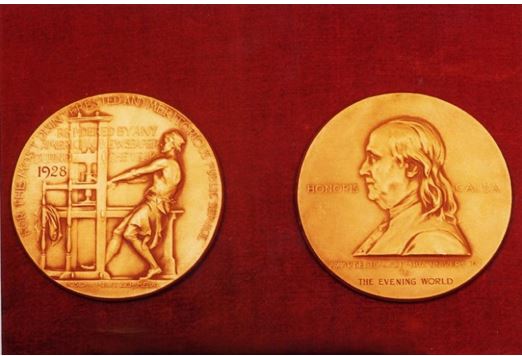 Journalism plays a crucial role in society; it reports what happens as it happens, records history, and connects with the people. The importance of journalism was showcased with the 100th annual Pulitzer Prizes that were handed out on Apr. 18.
They honored the Associated Press (AP) with the gold medal in public service for its investigation series about the Southeast Asian fishing industry, which helped free more thousands of slaves.
AP Senior Vice President and Executive Editor Kathleen Carroll told staffers in a press release, "This is AP's 52nd Pulitzer Prize but our very first for Public Service.
"Unique among the Pulitzers, the Public Service Gold Medal is awarded not to individuals, but to a news organization, recognizing that it takes a sustained commitment across that organization to support and deliver work like the fish slaves project."
The award serves to recognize journalism at its finest.
Carroll said, "…you go about your work every day with passion and determination to make sure we uncover secrets… stand up for people who don't have a voice… use the tools of our craft to inform the world and occasionally, right wrongs that need to be righted."
The Pulitzer prizes were established by Columbia University in 1917, with 14 journalism categories, five book categories, one drama category, and one music composition.
It is primarily for print newspapers but also recognizes magazines and digital news organizations.
The Washington Post was recognized for its project "Fatal Force," which tracked the number of deadly police shootings in the U.S. last year.
The Washington Post reporter Wesley Lowery tweeted, "'60+ journalists, chronicled 990+ police shooting.Honored to have played a part, and inspired by my WaPo colleagues."
The Los Angeles Times also won a Pulitzer Prize for its coverage of the San Bernardino shootings, chronicling the fast-breaking events and their aftermath.
The Pulitzer Board awarded the group "for exceptional reporting, including both local and global perspectives, on the shooting in San Bernardino and the terror investigation that followed."
Other groups also won the Pulitzer.
This award is considered the highest honor in the United States for print journalism and literary achievements. It emphasizes the importance of journalism in the world.
AP President and CEO Gary Pruitt said in a press release, "Isn't this the reason we all work [and report]… to support and further work like [this series]? To inform. To have an impact and to maybe, just maybe to make this world a better place."