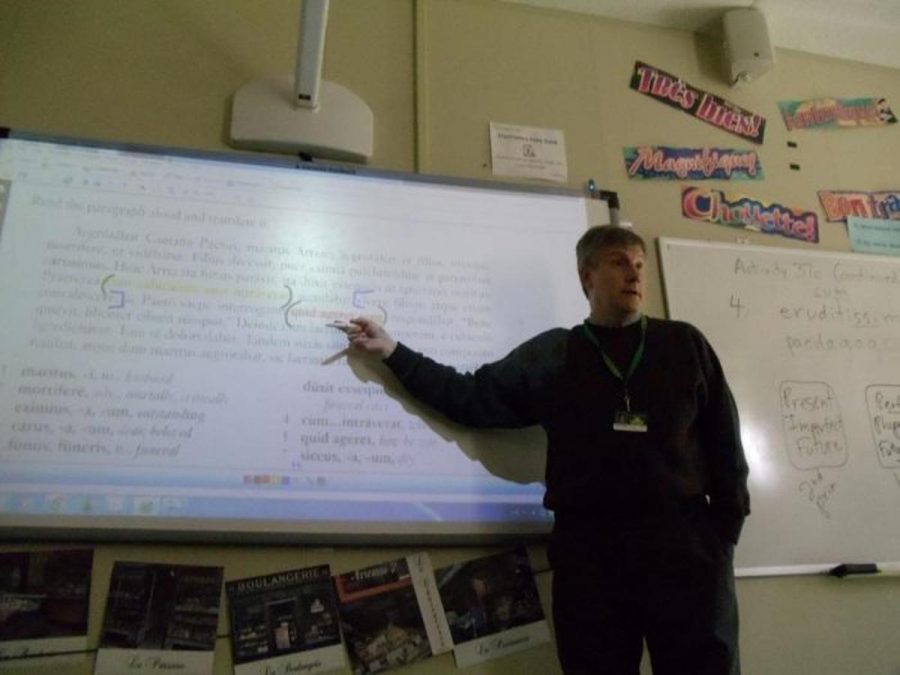 Q & A with Magister Torlone
April 29, 2016
Can you describe your teaching style? What do you do in the classroom?
I try to be as patient as possible. All students are different, so I try to engage everyone through different activities such as games and pictures. This appeals to different learning styles and are less traditional methods of teaching. I find it necessary to make adjustments depending on which areas students find difficult or easy.
What is the goal behind your teaching?
People want to say that they know, with certainty, the future. But since the future is unknown, studying the past seems to be a relatively good predictor of what the future holds. I feel that my job is to get students to slow down and connect with history; it's interesting to see them then use that knowledge base to make predictions about what will happen.
What is your favorite part about your job?
Do you want the joke? Free parking and scented dry erase markers.
Now in all seriousness, there are so many outstanding and supportive parents as well as hardworking students here; it makes my job rewarding. I enjoy watching young people grow. They come in here in the novice classes, starting with little knowledge, and reach the pinnacle of their studies in AP. It's so rewarding to see them progress from point A to point B with diligence, effort, and years of work.
What is the hardest part?
In my opinion, schools with block schedules seem to be effective; for students in schools without block scheduling, it can be more difficult. They have to keep up with seven subjects day after day, and it can be hard working around that.
How has your teaching changed over the years?
Over the years, I've noticed that how students' attention spans have decreased. 30 years ago, they used to be about 25 to 30 seconds, so I could teach with fewer transitions. Now, I would say that it's down to about six to eight seconds with more transitions, so I've had to change tasks and activities more often. The students sometimes seem to be physically here but mentally somewhere else. I remember how when I first started, they had so much attention to detail; in the 20th century, it was all about reading and writing. Now because of technology, it's all about clicking and swiping to engage everyone.
What has stood out to you in your years of teaching?
Watching lots of young people transition from student to scholar, especially those who are intellectually curious and eager to learn.
What will you remember when you leave?
The amazing dental plan!
And I will certainly remember all the wonderful colleagues I have been working with, both here and at the Junior High. I will also miss the excellent students I've had the pleasure of teaching. They have made my job most fulfilling.