Allergies take over Cincinnati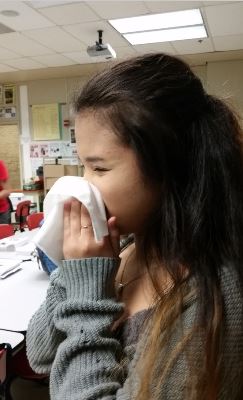 With spring in full swing, allergies continue to affect residents of the Cincinnati area.
Junior Alexandra Fanning said, "My allergies are really bad during the spring and fall. They make my voice sound really deep."
The allergy forecast has been reporting medium to to high pollen counts all week this week. The main kinds of pollen circulating are oak, maple, and poplar.
Although these are the three most prominent types of pollen in the atmosphere, there are others that may still be present.
Here are some tips to help with your allergies at school:
If there are windows open at school, do not sit near them.
Take non-drowsy allergy medicine before school.
Keep your own personal package of tissues with you in case some classrooms do not have any.
Fanning said, "There are some days when my allergies are so bad that I don't even want to get out of bed."
Cincinnati is known as one of the worst cities to live in for people with allergies, and Dayton was recently rated the eight worst city.
Fanning said, "Allergies are a really big pain, but I have over the years learned how to deal with them."