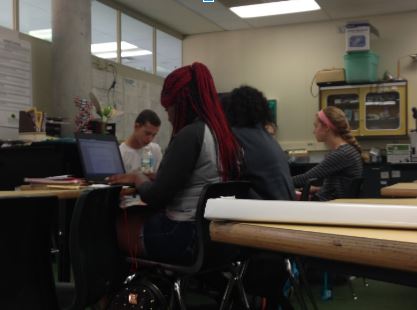 Fast track helps students exceed
School can be hard to manage–socially, academically, and organizationally– for students. Fast track, a program created by teacher Mrs. Beth LeBlanc, is aimed at motivating and facilitating school wide excellence among students.
Sophomore Lily Martinson, "I joined fast track to help students and make bonds. It turned out being a great choice. My mentee and I get along really well, and she's just a really great person. If I hadn't been in the class, I wouldn't have had the opportunity to meet her."
Students who wish to participate in this class sign up and are selected to become mentors after careful consideration. They must meet many criteria in order to be a mentor.
Sophomore Emma Basselman said, "Being a mentor is really rewarding. I have the opportunity to create a friendship with someone and also help them in areas they are struggling in. It's really great when you see them work hard and then reach a goal."
Fast track is aimed at creating personal relationships and trust so that anyone in the class can feel comfortable asking for help. In order to improve, you must have someone there to help you get there.
Junior Chloe Bradley said, "I have been in fast track for two semesters and have seen a lot of improvement in my mentees as well as myself. It's great to meet people and help them, but they also help you. It's a really great class."
Any grade level of students can be recommended to become a mentee, but mentors are sophomores and above. They help to facilitate good grades and encourage their mentees to work to their highest potential.