Tennis season heating up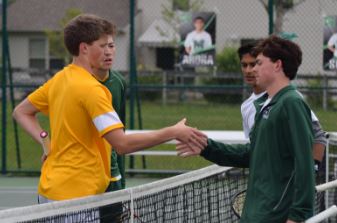 The boys Varsity Gold tennis team is busy this week (May 16-20) playing matches all throughout the state of Ohio.
The team will begin its week of competition facing against a familiar foe in Mason.
This match will determine whether or not SHS will go to the state final four this year.
Coach Michael Teets said, "It's all about having fun and enjoying every minute that you're on the court."
On Thurs. May 19 the team will be traveling to Centerville, Ohio to compete in the Districts Tournament. In order to qualify for state, you have to make the semifinals.
The team will leave from SHS in the morning and make its trek to Centerville, which is about an hour away.
Senior Alex Taylor said, "Playing Districts is always a little nerve-racking because you have that added pressure of wanting to make it to state so you don't want to lose."
Matches will begin at 9 a.m. on Thursday and will finish in the afternoon.
Junior Regis Liou said, "Usually playing Districts is a grind because we don't get home until late in the evening and we still have to do our homework, which makes us even more tired."
The Districts Tournament will conclude on Sat. May 21.