Mother Nature can not stop Marching Band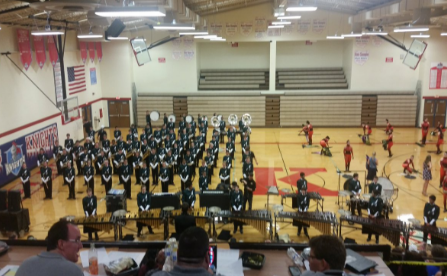 At the Kings High School, the Sycamore Marching Band had their first marching band competition indoors due to rain on Saturday, September 10th.
Two weeks prior to the competition, a thunderstorm also cancelled the game at the University of Cincinnati where the marching band went to play at halftime.
The marching band show is the "Vortex." (Not the King's Island ride!) The "Vortex" has three movements, and the first two movements were played at the competition.
With the competition moved into the gymnasium, the show could not be marched. Marchers and color guard were forced to perform in situated spots. With the visual effect limited, the musical aspect became much more important in this competition.
The rainy weather hardly affected the results of the performance. The marching band won reserve grand champion with the Bellbrook High School winning grand champion.
Deniz Gorur is in his second year in marching band and plays synthesizer.
"Best first competition we've had. We did a really good job and we've already learned most of our show," said Gorur.
Additionally, Principal Doug Mader and Superintendent Frank Forsthoefel both went to Kings to support the band.
Mader retweeted a tweet by Maria Wright, it said, "Judge at band: 'Sycamore's principal and superintendent are both here. Must be a special place.' Indeed."
Regardless of the rain, the marching band had an awesome first competition.
"[The marching band] can only go up," said Gorur.