Mentees pose challenges for new mentors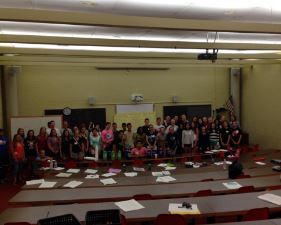 It is considered an honor to be selected as a leader of SHS's fast track program. However, it is not always as easy as it may seem.
"Sometimes my mentee will not listen to me and it is difficult to get him to focus on school work," said Nikhil Sekar, 11, new mentor.
During the two-day training over the summer, aspiring mentors had to learn how to build rapports with their mentees.
Although it may seem simple to build a relationship, it can often be difficult to connect to the mentees on a personal level.
"When I try to make my mentee do her work, she does not listen and often does not work the whole bell. This is because I haven't really built good rapport with her, but we are working on improving it together," said Madison Ringer, 11.
If a mentor is successful in building the rapport with their mentee, it is more likely for them to be on task and work well rather than goof off.
"When I talk with my mentee about non-school things, usually she seems more engaged and ready to work than when I just talk to her about school," said Ringer.
Clearly being a mentor is not as easy as it appears, but with enough patience and kindness, it can become a lot more simple.