FC Cincinnati re-breaks USL attendance record in playoff clincher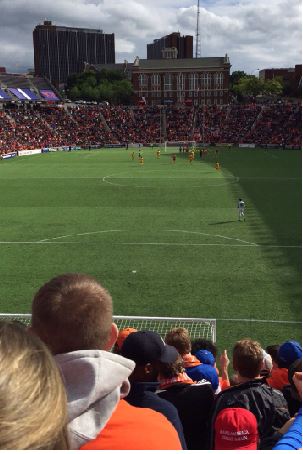 It was a late goal from forward Casey Henderson against Orlando City B on Sat., Sep. 17 that secured F.C. Cincinnati a home-field advantage playoff game in their inaugural season. A smaller story that got less attention was the attendance.
For the third time this season, the F.C.C. fans that pack Nippert Stadium shattered the USL single-game attendance record, this time with 24,376 attendees. The club's attendance average was higher than those of five MLS teams.
"I think it's so impressive to see how many people can go out to games in a city that hasn't ever really seen a soccer team before," said Abhilash Yarlagadda, 10.
F.C.C's final regular season game will be on the road against Pittsburgh on Sat., Sep. 24, a team that they beat in May and tied with less than two weeks ago.
"I hope that Cincinnati will win with all of the playoff momentum they have, but now that they clinched a spot, they might just rest their starters," said Bradley Bolotin, 12.
Win or lose, fans cannot complain about the result of the final regular season game because they know that USL playoff soccer will be coming to Cincinnati. On Sun., Oct. 2, F.C.C. will host their first round playoff opponent in a game at Nippert Stadium.
Tickets for the playoff game will range from five to 30 dollars for regular seating and 50 to 4,000 dollars for club and suite seating. With such limited space at Nippert, these tickets are a hot commodity that will not be on the market for long.
"I've been to a few games this year and tickets were hard to get right before, so I'm sure they'll sell out well before the game," said David Greenberger, 12.