Cincinnati combats heroin epidemic
November 1, 2016
Prevention measures
One of the most important ways to combat the heroin epidemic is prevention.
The Hamilton County Heroin Coalition (HCHC) has a compilation of lists of resources and crisis hotlines on its website.
"[Heroin is] going to be a very difficult thing to combat without the prevention aspect," said Hamilton County Coroner Dr. Lakshmi Sammarco.
Learning about the effects and damage of the heroin epidemic and getting help for friends and families are important steps as well.
Fighting heroin
To combat this epidemic, the Hamilton County Heroin Coalition brings together leaders from different departments to address this issue.
"The genesis of this heroin coalition is to bring everybody who is touching this problem in government together.
"My staff and I coordinate the efforts of the coalition, and the county has agreed to commit over a million dollars to this effort. So, we determine how it is spent and how the resources are placed," said Dennis Deters, Vice President of the Hamilton County Board of Commissioners and Coalition Chair of HCHC.
The coalition aims to increase access to treatment, improve prevention efforts, and reduce the severe consequences of heroin.
"I am certain [we can beat the epidemic]. The momentum we have locally with the heroin coalition is going to make it happen. There is enough attention to this and enough leaders who believe that we can beat this thing, that it will happen," Deters said.
To learn more about the epidemic or receive help, visit injecthope.com.
                      Opioid origins

According to the Office of National Drug Control Policy, most of the heroin supply in the U.S. is coming from abroad.
The severity of the epidemic can be traced back to availability, cost, and potency. Drug cartels are responsible for making heroin accessible and easy to obtain.
"When we think of drug cartels we think of gangs and we think of murder and violence. However, some of these cartels have come up with a system of customer service that almost rivals Amazon.
"You can actually text somebody and have the heroin delivered to you, and if for some reason you don't like what you got or think you were cheated, they'll send you some more. It's all about money. They want to cause you to become addicted," said Tim Ingram, Health Commissioner of Hamilton County Public Health.
This industry is profit-motivated. Non- prescription drugs are much cheaper than prescriptions, and cartels are making millions, if not billions of dollars off of this market.

Anatomy of addiction
Addiction is a complicated issue. Typically, an individual voluntarily starts their drug use, but when a person becomes addicted, the drugs they use change the structure of their brain and how it functions.
"I and most of the physicians that handle medicine see addiction as a disease, but we as a society don't all see it the same way.
"It's not the fault of the person- it's the fault of society on how we look at the problem and how we are prescribing pain medications," Ingram said.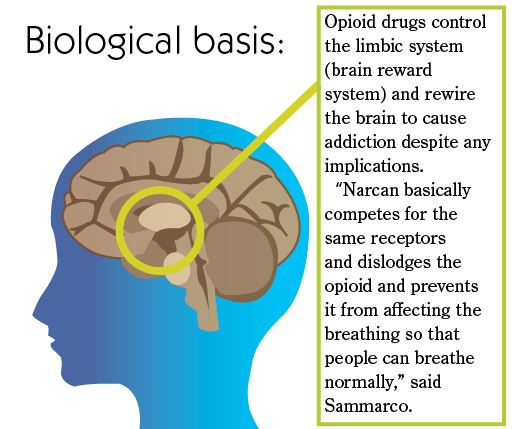 Addiction is a disease that affects both the brain and behavior of an individual. It is commonly characterized as a moral failure. However, understanding how drugs rewire the brain and stimulate chronic drug usage is the next step to combating the heroin epidemic.
"It is basically the opioids, which attach to certain receptors blocking the sense of pain, and that's how you get pain relief," Sammarco said.
Heroin hurts: not just users
The heroin epidemic has been a growing problem for years. With the recent spikes in fentanyl and carfentanil use, overdose deaths have increased significantly.
"Last year we had 414 accidental overdose deaths. That is more than twice the combination of motor vehicle deaths and homicides put together," said Sammarco.
The ever- growing heroin epidemic has created new complications including secondary infections. Due to the unhygienic practice of sharing or using discarded needles, infections like HIV and Hepatitis C have become another epidemic.
"It's not contagious from a person to person standpoint but this leads to secondary infections that can be transmitted from person to person.
"
This disease of addiction due to opioid [use] knows no political boundaries, knows no gender, and knows no race- everyone is vulnerable"
— Health Commissioner Tim Ingram
"When they start utilizing heroin they are sharing needles. This is causing them to share diseases like HIV and Hepatitis C. That's how we get involved when we see these secondary infections start to arise," said Ingram.
While most people born between 1946 and 1964 typically make up most of the population with Hepatitis C (HCV), a 2015 study conducted by the University Medical Center at Princeton found that "escalating injection drug and heroin use has been associated with increasing HCV infection among young persons."
Now, people between 17-35 years old are making up the second wave of HCV infections.
Likewise, HIV, which is also contracted through the transmission of blood and bodily fluids, has started to rapidly spread in heroin-prone areas.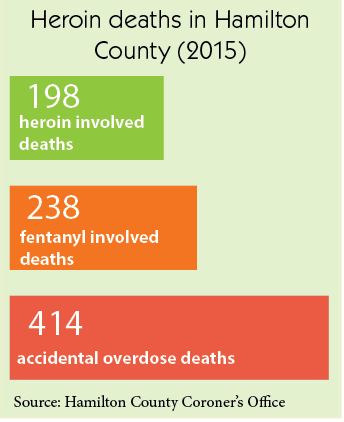 Last year, more than 140 people in Scots County, Indiana were infected with HIV- the worst outbreak in Indiana's history.
The epidemic has taken a toll on families in the community.
"I'm an attorney in private practice, so I have helped families who have been dealing with addiction in different ways. Sometimes they get in trouble with the law, sometimes there are other issues with treatment that I've helped them with.
"From an elected official standpoint, heroin has become a drain on resources. There are a number of local law enforcement people and emergency personnel that can tell you that they are sp
ending as much time, if not more on the heroin epidemic with overdoses than on the regular emergency runs," said Deters.
The heroin epidemic has spread to suburban areas as well as the city.
"I see the consequences of heroin. I see needles on the street discarded. I get calls from people who are seeking help for their child, brother, nephew, niece, trying to get into treatment.
"If they had asked me three years ago if I wou
ld have been working as the Public Health Commissioner for this issue, I would have said no because it has always been managed and handled by the Mental Health Department. But it has gotten so big and there have been so many secondary infections that they alone cannot deal with this problem.
"This disease of addiction due to opioid [use] knows no political boundaries, knows no gender, and knows no race- everyone is vulnerable," said Ingram.