28 match win streak coming to end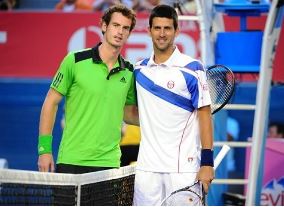 Novak Djokovic  has taken the first battle of the 2017 ATP World Tour season against Andy Murray, beating the Scot 6-3, 5-7, 6-4 to defend his Qatar Open title and extract revenge on the World No. 1.
In an electrifying final, the Serbian captured his first title since July (Rogers Cup) and showed some of the tennis that helped him dominate the first half of 2016. Djokovic frequently encouraged the crowd to back him, lifting his arms and pumping his fist while staring into the stands.
"Best scenario I could ask for at the beginning of the season. Playing all five matches in this tournament and then three hours against No. 1 of the world, biggest rival, and winning in a thrilling marathon match," Djokovic said, according to atpworldtour.com.
Murray displayed his own brand of competitive tennis, especially when Djokovic was trying to serve out the match during the second set. The Serbian had three championship points while serving at 5-4 but Murray erased them all and won the next two games to force a deciding set. As Djokovic had done earlier in the match, Murray had the crowd to support him.
Djokovic converted in the deciding set, though. He served out the match, coming through on his fourth championship point.
"Obviously disappointed not to win, but I played pretty good the last couple of matches," Murray said according to atpworldtour.com.
The Djokovic win ends Murray's 28-match win streak, which dated back to September when he lost to Juan Martin del Potro in the Davis Cup. That streak featured five consecutive titles, including November's ATP Finals Championship when Murray beat Djokovic for the season-ending title and the year-end No. 1 ATP Ranking.
"I think physically it was a good test to start the year, and I did good there," said Murray according to atpworldtour.com.