"Irena's Vow" incites excitement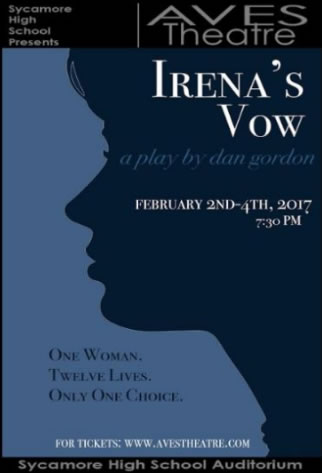 The Aves Theatre is presenting a play that takes place during the Holocaust called "Irena's Vow." The production will begin premiering on Feb. 2-4 in the Aves Theatre at 7:30 PM. Tickets cost $12 at the door or $10 in advance.
"Irena's Vow" is based off a true story about a Polish girl who saves the lives of 12 Jews during World War II. It furthermore tells the story of their struggle to surviving the Holocaust.
"One of the really cool parts of preparing for the show was getting to dig into the historical part of the show and figuring out how our own characters would react in such heightened circumstances," said Madeline Weiss, 10, who plays three roles in the show.
The cast and crew put forth great strife for the production starting practices several months ago. Junior Kate McNamara-Marsland, sophomore Drew Lawrence, and senior Emily Tyler are a few of the leads in "Irena's Vow." The production was directed under Mr. John Whapham, who has been the Aves Theatre director at the high school since 2005.
"Most rehearsals for this show involved blocking of scenes and figuring out characterization to be able to emotionally involve the audience," said Weiss.
Although a historical play, "Irena's Vow" connects to people today as all have studied the Holocaust. But taking it further than in a classroom, the play will allow the audience to connect to actual experiences of what it was like to be under such harsh circumstances of that time period.
"Irena's Vow" will be the third production of this school year following the "25th Annual Putnam County Spelling Bee" and the Improv Show. The musical called "Big Fish" will be the next and last production this school year, premiering in early April.
"Overall, I believe that the cast is proud of the show we are putting on and hope that students come and see the show to witness this amazing story," said Weiss.