Comeback run continuing 'down under'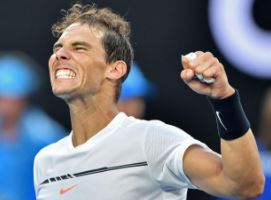 Rafael Nadal continues to grow in confidence. The ninth seed and 2009 champion reached his fifth Australian Open semi-final – and his first Grand Slam semi-final since 2014 Roland Garros – in stunning fashion on Wednesday, Jan. 25.
"It was a great match to watch and it was incredibly entertaining," said Nikhil Sekar, 11.
Nadal avenged his recent loss to Milos Raonic, the third seed, at the Brisbane International Open, with a 6-4, 7-6(7), 6-4 victory at Melbourne Park over the Canadian in two hours and 44 minutes.
His 50th match win at the Grand Slam championship also helped him into the 24th major semi-final of his career.
"It is so great to see Nadal playing like his old self again. He is beginning to really get his confidence back," said Noah Stern, 12.
The 30-year-old Nadal, who is now 7-2 lifetime against Raonic, will next face No. 15 seed Grigor Dimitrov, who was a straight-sets winner over No. 11 David Goffin, on Friday. Nadal is 7-1 in his series against Dimitrov, who won their last match 6-2, 6-4 in the 2016 China Open quarterfinals.
"Although on paper Nadal looks like the clear favorite, tennis is such an unpredictable sport and you never know what may happen out there on the court," said Stern.