Tiny tigers take to Cincinnati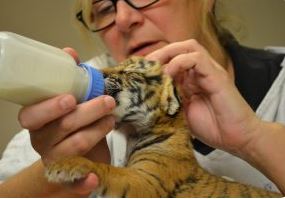 Fiona, the hippo, is not the only baby to be recently born at the Cincinnati Zoo, as three Malayan tiger cubs were just introduced to the zoo this month.
The tigers are currently under the careful watch of veterinarians and zookeepers in the nursery because their mother, Cinta, has still not shown the usual instincts of motherhood.
"It's not uncommon for first-time tiger moms not to know what to do. They can be aggressive and even harm or kill the cubs," said Mike Dulaney, curator of mammals and vice coordinator of the Malayan Tiger Species Survival Plan (SSP).
Not only are the young tigers bringing an overload of cuteness to the zoo, but they are also helping to diversify and expand the number of tigers in the zoo's population. Malayan tigers are considered to be an endangered species.
"Malayan tigers are endangered with fewer than 500 left in the world. Major reasons for population decline include habitat destruction, fragmentation, and poaching" according to the Cincinnati Zoo website.
The caregivers at the zoo are keeping the cubs warm and feeding them often, as a typical baby would need. Once they are weaned, the tigers will be moved to Cat Canyon, where visitors will be able to see them by early spring.