Looking forward, not back
There were a total of 23 games played during the 2012 Varsity baseball season.  The team had some rough patches throughout the year such as the death of former player Larry Cook, '12 as well as some players being hurt for part or all the season.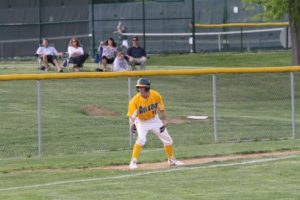 "As an incoming freshman, I hope to only help the team," said Josh Feld, 9.
The team lost 18 of the 23 games and finished last in the GMC with a five and 18 record. In the conference, they finished three and 15 just behind Princeton who finished six and 20 overall.
"Hopefully, next season they will have more wins and more opportunities to beat quality teams such as Mason and Lakota East," said Adam Ioas, 11.
The varsity team won its second game of the season against a very good baseball team from Carlson, Michigan. They won ten to nine. Following that, they lost 13 games in a row before beating Princeton six to one and 'improved' their record to two and 14.
They once again beat Princeton nine to eight and their record stood at three and fourteen. They finished the regular season with a record of five and 17 and then lost to Glen Este in the post season by a score of ten to six.
The season had its series of ups and downs. Cam Harris, 13' was second in the GMC with a batting average of 0.482. He had a base hit almost five out of ten times. He also hit three home runs drove in 17 runs (RBIs).
'When I saw him in the batting cages after school, my jaw dropped, I just could not believe that raw power that [Harris] had," said Nick Cassidy, 10.
For the upcoming 2013 baseball season, seniors Sean Clayton and Ben Gunn will look to have pivotal roles in the season ahead. There is much to look forward to as the team approaches the beginning of the season.