Q & A with Sherifah Shehata Aldaoushi, 12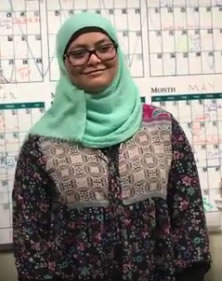 Q:What do you wish people knew about you/your faith?
A:My headscarf, also known as a hijab, is a symbol of modesty and faith in Islam. It introduces me to the world: 'Hello, I am Muslim and I exercise my right to choose.' A lot of people think that I do not have a choice in wearing it, but I actually do; it is the best gift that my hijab gives me. I choose to wear it, and I have the power to control who can see my hair and my body and who cannot. I choose to be beautiful on my own terms and to be seen as I deserve to be seen. I wear my hijab as a shout out to all other Muslims who stand against Islamophobia and to tell people, 'Look at me, I am a Muslim woman, and I am compassionate, and I am peaceful, and I am here.'
Q: What are some common misconceptions about your faith?
A: Other people see us as a violent religion. True Islam promotes tolerance and humility and love. The media's projection of my faith is twisted and disfigured and in no way relates to reality. In the Quran, which is the book that we use, God urges us to enter absolutely into peace. We are instructed that there is no compulsion in the matter of religion and it is your right to choose your faith; for if you do not care to be a part of mine, then you be a part of your religion, and I am part of mine, a message of love and peace for all eternity.