Varsity Gold tennis wins Coaches' Classic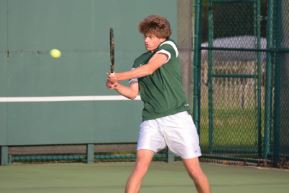 It was a cold and wet weekend for the boys tennis team as they faced competition from schools all throughout the Greater Miami Conference (GMC) in the Coaches' Classic Tournament.
Out of five possible individual finals, SHS players were in four of them; first, second, and third singles and second doubles all made it to the finals.
"We just look at it as a great way to find out what we have to work on. It means a lot in terms of preparing for the state tournament. I was happy with our team effort as a whole," said Mr. Michael Teets, tennis coach.
The team won at the first singles position, third singles position, and the second doubles position, while losing in the backdraw finals at first doubles.
The team was tied in first place with Mason High School with 310 points, however SHS took home the trophy because of the three flight champions that they had. Mason only had two.
"It was great winning this tournament because it gives us a huge confidence boost heading into the GMC Tournament and State," said Regis Liou, senior captain.
The GMC Tournament is just like the Coaches' Classic Tournament, however there are more matches that are played in the GMC Tournament and fewer teams.
"The GMC Tournament is like Coaches' Classic on steroids. It is going to be tough, but we love the challenge," Liou said.
GMC Tournament matches begin on Sat. May 6 and finishes on Mon. May 8. Matches will be played at Mason Middle School.