Contemporary novel fosters new academic involvement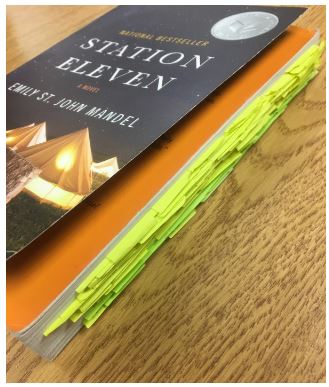 On March 10 juniors in AP English Language and Composition began reading the science fiction novel "Station Eleven" by Emily St. John Mandel.
"I love this book. It's one of my favorite books we read, this and Gatsby," said Mrs. Laura Newton, AP Lang teacher.
Mandel's novel follows a group of performers as they navigate a post-apocalyptic world after the fictional Georgian Flu decimated the Earth. Weaving the stories of characters through the past and the present, Mandel slowly reveals a deeper meaning about mortality and the human condition.
The book, which was written in 2014, has since received and been nominated for numerous awards including winning the Arthur C. Clarke Award, the Toronto Book Award, and the Morning News Tournament of Books. It is a "New York Times" and international bestseller, and it was chosen by "The Washington Post," "TIME Magazine", and TimeOut New York as one of the Top Ten Books of the Year.
"I have been teaching [this book] for two years. I feel like people like this book better but I feel like their engagement as a whole is lower because, understandably, they are studying for AP tests," Newton said.
Her students, however, see the book as having sparked a whirl of conversation in their normally quiet first bell class.
"I think 'Station Eleven' is great because I think the book has better content, and most people in the class are enjoying the book, especially compared to other books we normally read in English, which kids don't normally like," said Hunter Maxfield, 11.
The class had a Socratic seminar on May 3, where they discussed the second-to-last section of the book. The class split into two groups to discuss the deeper meaning of the characters in the book and their overall importance throughout the novel.
"I really enjoyed our discussion. I feel like our Socratic seminars for 'Station Eleven' are so much better because the book is so good and easy to analyze and discuss," said Anita Pan, 11.