Baseball conditioning underway, tryouts loom ahead
The nerves of some players are on the rise as baseball tryouts occur the week of Feb. 25. On Feb. 25, all grades of baseball will try and earn a spot on the high school baseball teams.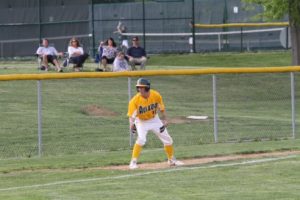 There is a freshman team as well as JV and Varsity. The tryouts will last all week starting on a Mon. and continue through Fri. The tryouts will range from two to three hours depending on the position.
"When I tried out last year, I was a nervous wreck, thankfully I made it," said Matthew Green, 11.
The pitchers and catchers will report at 5:00 p.m. and the other position players will report at 6:00 p.m. The tryout consists of throwing, fielding, and batting.
The pitchers as well as catchers will work with each other to help better each player's skills. The pitchers will work on leg and body movement while catchers will work on how to block the ball with their body.
"It is great to work with other players because I can better myself and help my teammates," said Jacob Pope, 12.
The baseball players will have been working out in the Gregory Center. The team has been lifting weights since Oct. and will begin conditioning at the end of Dec.
The baseball season starts at the end of March and goes through the end of May. The team hopes to play all their games in the upcoming season because in the past the weather has not cooperated and has cancelled as many as ten games in one season.
"I hope this season turns out to be great, I am sick of mediocrity," said Adam Simha, 12.
In the 2013 baseball season, Varsity finished five and 18 while finishing three and 15 in the GMC. This year is destined to be different as many players put in a lot of hard work and dedication.