Spotlight shines on senior string soloists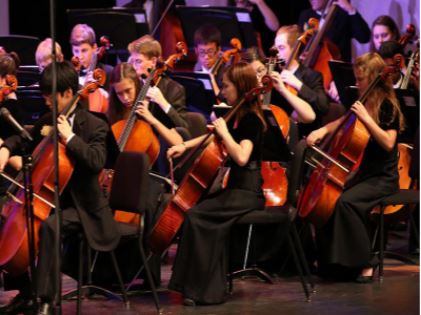 On Oct. 12, the first orchestra concert of the year under new director, Dr. Angela Santangelo, will be held. Like previous years, the event will feature solos from chosen high school program members who have participated for all four years.
Senior Spotlight concerts includes pieces played by the full orchestra followed by a solo piece from one or two seniors. On average, each year promotes a total of three to four seniors.
The seniors are then divided, chosen to perform their solos during either the fall or spring concert, and honored with flowers and recognition from their peers and the program.
Spotlight performers this year include senior cellist Bailey Truitt for the upcoming fall concert, and seniors cellist Kiri Wang, 12 along with violinist Jiin Woo for spring. The fall concert is set to feature band students as well,
creating a symphony orchestra.
Although Truitt is the only fall Senior Spotlight performer, she, like many SHS music program members, supplies an abundance of passion and talent.
Now an important aspect of her life, Truitt began playing the cello through the district's orchestra program in the fifth grade. During the fall concert, she will play the first movement of the Hadyn "Cello Concerto in C."
"I've been learning to play [her piece] for about two months and I am so thrilled," Truitt said.
Since this year's orchestra includes 16 cellos whereas other ones average around six, Truitt will be supported by a 'mini orchestra' during her solo. The entire orchestra will play "St. Paul's Suite" by Gustav Holst and "Styre's Rally" by Alexander Saffold.
"I am excited to show what the orchestra program has done for me and how amazing of an opportunity it is to play a solo with my peers. I found my passion through the program and I am so lucky to be a part of it," Truitt said.