Team atmosphere replaces solitude in individual sports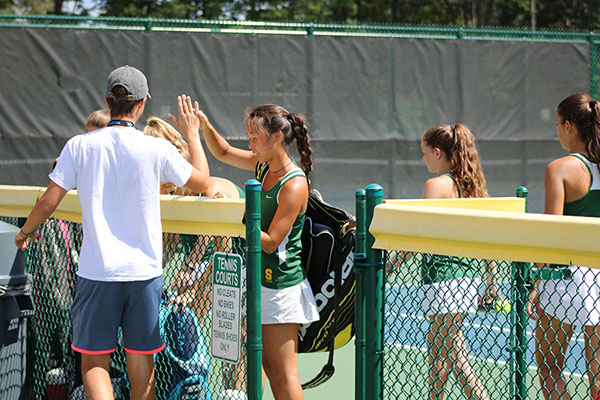 A ball is tossed, and a serve is hit. The outcome of this serve decides whether the winner of the match is the person across the net.
One millisecond late, the serve is out and the match over; one millisecond early and a penetrating serve redeems chances of the server becoming the victor. The outcome solely lies in the hands -or rather mind- of the player him or herself.
In this particular case, the serve barely misses the thick, painted line. A quick shake of hands follows, signaling the end of a three set tennis match, as well as the taxing mental toll a loss places on the competitor.
Similar situations occur in every individual sport. Whether it is tennis, golf, or boxing, the isolation on the playing field is a common thread, and one that can be extremely tiring as a high school student.
Although there are many positives to individual sports such as claiming full responsibility for actions, discipline, focus, and confidence, it is hard at the high school level to bring those traits into a competitive environment everyday.
Aves tennis is one sport at SHS that bolsters individual accomplishments through the constant support of the team.
"Playing with your teammates, school, and fans, gives you a rush you never experience playing for just yourself," said Nathan Zhang, 12.
Having people next to you on the court or sidelines can oftentimes be the adrenaline rush carrying you through the final sprint of what feels like a five mile match.
"My teammates and I have grown so close over the years; tennis was always my sport but never 'our' sport until I came to SHS," Zhang said.
Not only are the wins satisfactory, but important life lessons about selflessness and teamwork are learned. Long lasting relationships are created between teammates, each one putting their fair share of work in to benefit the good of the group.
"I do not want others to suffer the consequences from my loss, so I work harder keeping this in mind," said Helen Sotropa, 11.
The pressure to win is incessant in an evermore competitive world, but in the case of individual sports, a support system carries the pile of bricks one by one off your back, notably with pleasure.