Clothing on come up
SHS senior creates new fashion brand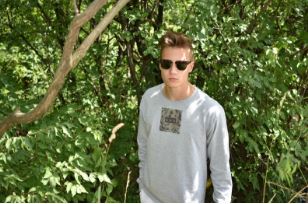 Senior Grayson Thornberry is currently running a small scale clothing company and creating some big-time buzz. The company is called AAO and stands for "Above All Others." Being "above all others" is about holding confidence and composure in all situations, regardless of status.
The story of AAO began while on a college visit in Chicago, one of the fashion capitals of the world. Thornberry realized the potential to apply his passion for clothing to the real world in the form of his own business.  So he went for it.
With the help and support of his family, he developed his designs and started to print them onto t-shirts.  As he began to sell them he received great feedback, which fueled him to continue to move forward and continue to develop his brand.
"I think Grayson's brand has a ton of potential considering its high quality and his dedication to it," said Jacob Truitt, 12.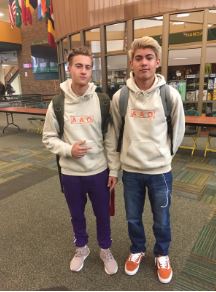 AAO's two most recent releases included newly embroidered sweatshirts, further expanding the company's range of merchandise. The clothing is made for anyone and everyone who wants to rep the company or just stay cozy in a stylish garment.
AAO is aiming to be a universal brand as opposed to being a local one.
Style is everything in Grayson's world. However, the style of clothing being produced by AAO is a direct outcome of some of Grayson's biggest inspirations.
These inspirations include rapper Kanye West (YEEZY), singer Pharrell Williams (HUMAN RACE), and designers Jerry Lorenzo (FOG) and Virgil Abloh (OFF White).
By watching the greats, thinking globally, and acting locally, the AAO team is off to a great start on their path towards being a highly successful brand.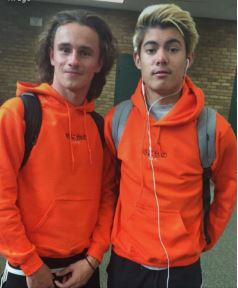 "[Grayson] is different from most people. If you tell him how he's doing something wrong, he will look right at you, say 'ok,' and change absolutely nothing about it," said Alex Thornberry,12, Grayson's brother.
Throughout the journey, Grayson has learned a few key things. Most importantly he has learned that backing up your ideas is something you cannot trust others to do; you have to back yourself up and others will follow.
"If I try to make something I like, other people will like it. But if I try to make something that other people like, and I don't, it usually won't work out," Grayson said.

All in all, he seems to have a grip on what is working and not working as far as his company goes.
As the AAO team continues to expand, learn, and succeed, the clothing gets better and better.
Make sure to check them out on social media( Instagram and Twitter) or visit the AAO website to pick up some AAO gear!