APUSH paper deadline closes in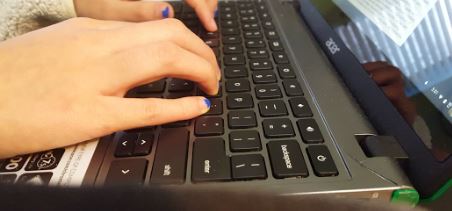 When students think of AP U.S. History (APUSH), the infamous research project comes to mind. Every year, APUSH students have to write an eight page paper about a topic of their choice (as long as it is a part of U.S. History), and is a large portion of their third quarter grade.
All papers must be turned in by 7:20 a.m. on Tues., Jan. 16.
Students also had the opportunity for extra credit if they turned their papers in earlier, by dates before and right after winter break, to receive fifteen and ten extra credit points, respectively.
Although there can be a lot of stress from writing a paper, Mrs. Valerie Nimeskern quipped that she decided to keep assigning the paper every year because of the many emails she received from Sycamore alumni thanking her for assigning the project as they knew how to write papers in college while other classmates did not.
"It's not that bad. Just do a little work at a time, and it will feel really good and easy," said Adam Kossen, 11.
The top ten papers will be submitted to the National History Day competition to compete among the thousands of others submitted nationwide.
Students submitted their topics via email to Nimeskern and began research late October. Students took notes on notecards and were given check grades every few weeks to keep students responsible for continuous research.
"My topic is the FDR New Deal, and I think it is very interesting, but I'm also really weird," Kossen said.
In addition, APUSH students went on a field trip in November to the main branch library downtown to check out primary sources- a minimum of ten are required for the paper.
"There's a lot of sources [for my topic]. People viewed FDR as a very important president, so there are a lot of sources about him," Kossen said.
Every year, there is a theme that frames the research paper announced by National History Day. The theme this year is "Conflict and Compromise in History."
"The intentional selection of the theme for NHD is to provide an opportunity for students to push past the antiquated view of history as mere facts and dates and drill down into historical content to develop perspective and understanding," stated National History Day.