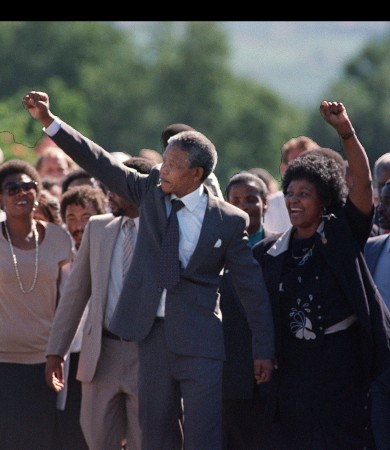 A nation mourns the loss of its former leader, Nelson Mandela, who died at 95 on Dec. 5, 2013 after a long illness.
"Nelson Mandela was such an inspiration for everyone and the way he fought for not just himself but thousands of people really shows his true character," said Rachel Lutterbie, 9.
Mandela was known for ending apartheid, a system that separated whites from nonwhites in South Africa. After spending 27 years in prison for fighting against racial inequality, he became the country's first democratically elected president.
"The man was in prison for 27 years and still came back stronger and ready to make a change. Everyone has struggles in their lives but not many people can say that on top of their own problems they faced others without complaint," said Sarita Evans, 9.
Story continues below advertisement
July 18, 1918: Born Rolihlahla Mandela in a small village in the eastern Cape of South Africa.
1944: Joins the African National Congress (ANC).
1948:  South African government introduces the racial segregation policy of apartheid.
December 1952:  Sentenced to nine months hard labor, suspended for two years, for civil disobedience campaign. Opens first black law firm with Oliver Tambo.
1956:  Charged with high treason as part of a round up of 156 activists.
1964: After an eight- month trial, Mandela and seven others are sentenced to life in prison. Before the trial, Mandela said, "I am prepared to die."
1990: After 27 years Mandela is freed from prison.
1994: Mandela is elected the president of South Africa.
Over the years, Mandela continued working to promote peace around the world. In 2007, he helped found The Elders, an organization of world leaders committed to ending conflicts and promoting human rights.
"Mandela went against racism which to this day still impacts not just South Africa but the whole world. He is definitely one of those people who you shouldn't grieve his death but rather celebrate how he lived and all the wonderful things he accomplished while alive," said Caroline Veraldo, 9.