Preparations for Black History Month celebration come underway
  Starting next Thurs., Feb. 1, posters will be going up around the school of African American students as the first of many in order to highlight the beginning of Black History Month.
  "It's a month of celebration," said Jasyln Davis-Johnson, 12, president of SHS's Young Scholars Club.
  The Young Scholars group, which is led by Assistant Principal Dr. Yejide Mack and has been meeting for months came up with multiple ideas for the school-wide celebration of Black History Month.
  "I've always wanted to see more done for Black History Month here at Sycamore High School. This year, I'm glad I was able to work with the rest of the seniors of Young Scholars to come up with good ideas," Davis-Johnson said.
   The school will be participating in a poster contest and a toiletry drive for the Boys and Girls Club.
  The poster contest will be held between Aviator bells and will last throughout the entirety of the month. Students will choose one prominent American figure and create a poster outlining their accomplishments. Further direction will be given to Aviator teachers.
  The winning class will either receive a lunch from Chick-fil-A or Chipotle.
  Secondly, there will be a district-wide collection of toiletries, school supplies, and clothing, which will go towards helping young students in the Cincinnati area, where according to the Greater Cincinnati Homeless Coalition's Fact Sheet, "43 percent of the homeless population is under the age of 25" and "74 percent of Cincinnati's African American children face poverty."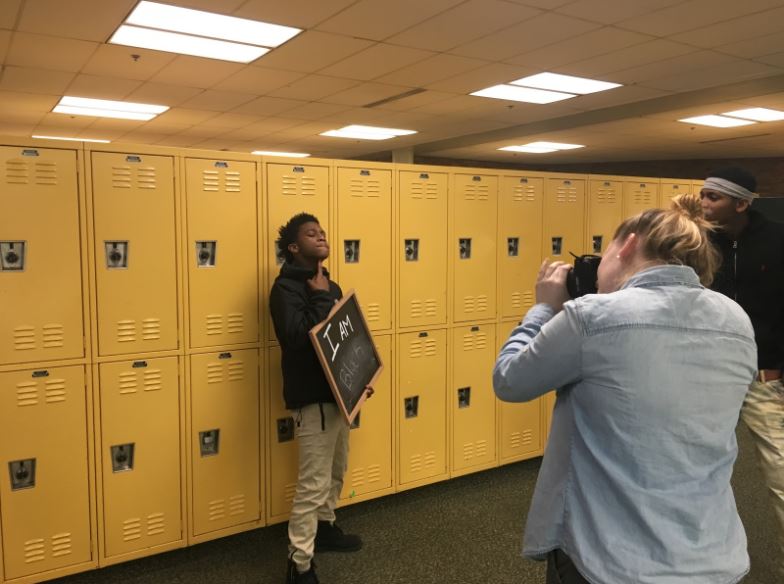 After calling the Boy and Girls Club based in Cincinnati and suggesting that they work with the Sycamore school district, senior Asa Hodrick began to organize the event to coincide with Black History Month.
  "I went to Boys and Girls Club in Evandale when I was younger; I knew what it was about. It provides things for people in rougher neighborhoods and gives them the opportunity to cultivate their talents," Hodrick said.
  African American students spent a part of their lunch taking the photos which would become the first posters to line the school hallways. The students took photos after filling out chalkboard with the statement "I am…"
  "I feel like most people don't really embrace their race and I'm proud to be black," said Anna Ingle, 9, who chose to take her photo with the chalk board saying, "I am PROUD."
  The Young Scholars will continue to talk as the the first day of Black History Month gets closer.
  "My goal is for everyone here to leave February more informed on the importance of black history," Davis-Johnson said.